Born: 20.08.1986 in Duisburg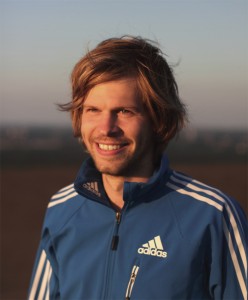 City: Kaiserslautern/Ruhrgebiet
Occupation: Unicyclist, Student in Urban Planing
Competition Highlights: 4 Times Worldchampion, 4 Times runner up Worldchampionship (Agegroup), Secondplace Finals Worldchampionships, Guinness Worldrecord ("Bottle Rail"), highest unicycle jump, Crossing the Zugspitze, crossing the Alps, 3011m descent dolomites, Worldrecord Slackline                                 Main Unicycle Disziplines: Trial and Mountainunicycling (Unicycle Downhill)                           Hobbys: Mountainbiking, Slacklining, Climbing, Reading, exploring the world,
About Lutz: Having started unicycling in 1996, Lutz initially focused on Freestyle and Racing. Since 2003, Lutz' focus is on Extreme Unicycling, especially the subdisciplines Trial and Downhill. Nowadays, he travels the world in order to conquer ever new obstacles. Lutz was four times world champion in his category and vice world champion in all categories and he has gained lots of titles and established several records in national and international competitions. Furthermore, Lutz gives a lot of performances and workshops and appears in TV shows from China to Israel. When he is not riding his unicycle, he studies for his degree in Regional and Environmental Planning at the TU Kaiserslautern. If you are interested in Lutz' shows and workshops, please contact him.
References Shows:
TV:

"Breakfast TV" Channel 1 Bratislava 2012
SWR ("Landesschau") 2011
SWR ("Landesschau") 2010
KIKA ("Finale des KIKA Live Web Awards") 2009
Arte ("Tracks" im Rahmen der DH DM) 2009
KIKA ("Kika Live") 2008
WDR ("Das NRW Duell") 2008
CTV ("Frühstücksfernsehen" Kanada) 2008
BR (Im Rahmen des GMTWs) 2008
WDR (Länderzeit Köln/Bonn) 2008
Sat1 (My Video Show) 2007
RTL 2 (RTL 2 News) 2005
WDR (Länderzeit NRW/RheinRuhr) 2005
DSF (Clip Show ) 2004
Veranstaltungen (Auszug):
Spezial Fahrrad Messe Germersheim 2012
Outdoor Film Festival Bratislava 2012
Eröffnung der Boulder Halle Rocktown Kaiserslautern 2011
Eröffnungsshow der EJC München 2011
Strombike Marathon 2010
Gala Show der 10. Dresdener Jonglier Convention 2010
Sommerfest der IV Pro Langerwehe 2009
Asta Sommerfest TU Kaiserslautern 2009
Eröffnung "Uni Fit" Kaiserslautern 2009
Tournee mit dem "Ride the lobster" Rennen durch Nova Scotia Kanada 2008
Münchener Einradtag 2008
"DH Gracisce" Croatien 2007
"Radrennen über Wasser" 2006, 2007 und 2009
Karnevall in Aalborg Dänemark 2006
Dänische Einrad Meisterschaft 2006
Stadtfest Duisburg Marxloh 2004-2006
MTB Worldcup Willingen 2005
"Extraschicht" im Ruhrgebiet 2005
"Drahtesel Markt" Unna 2005
Dortmunder Jonglierconvention 2004